Ross Valley Players Crimes of the Heart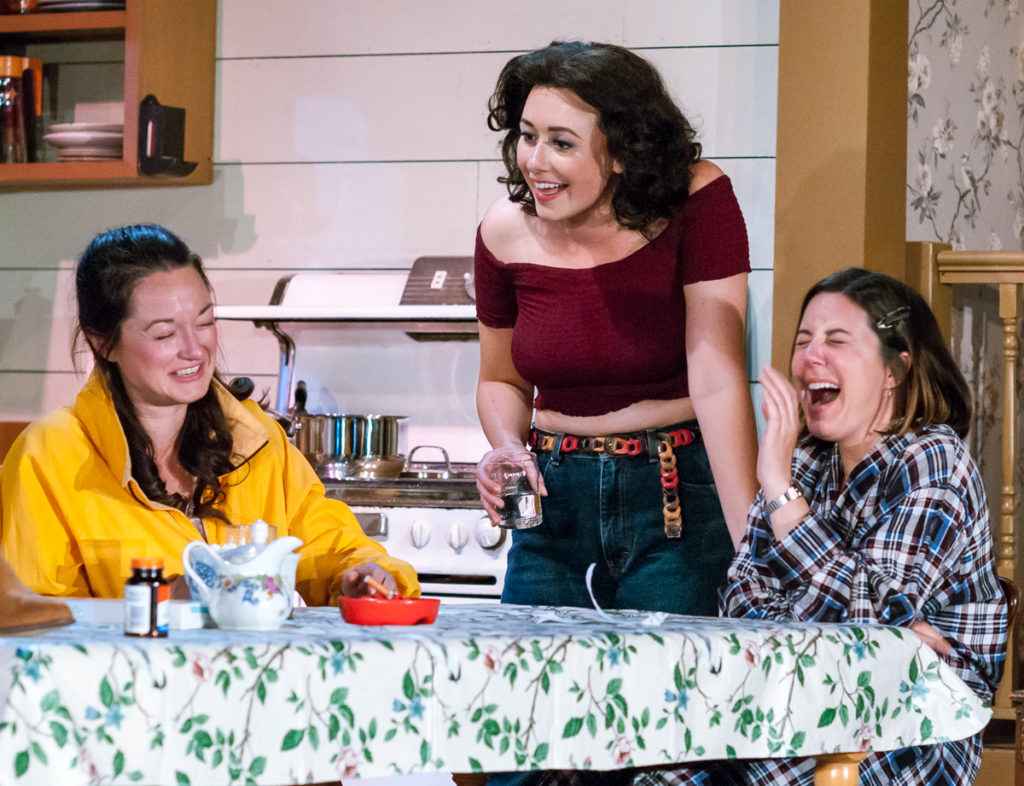 Crimes of the Heart
By Beth Henley
Directed by Patrick Nims
"Happy Birthday Lenny, One day late" – the Magrath sisters
Set in a small southern town, Crimes of the Heart is a beat away from the Chekhov antidote, The Three Sisters, but tells it's own universal story about love and loss,  "crimes" suffered and committed, while at the same time protected in the unshakeable bonds of sisterhood.
The  play is quite entertaining and the acting moves it along.  There is one unnecessary gratuitous choice by the director, but overall a rewarding production worthy of withdrawing from the comfort of your lounge on these glorious Marin Summer evenings.  The play will have you shaking your head in disbelief, laughing and definitely wishing, or glad,  you have sisters.
Jensen Power (Lenny Magrath) and Caitlin Strom-Martin (Chick Boyle) give strong performances.  Jensen's performance matures from the beginning to the end, the true promise of what Henley had envisioned.  Caitlin does a masterful job putting on her panty hose while in conversation with her cousin with stage direction that can only be called gratuitous; a poorly chosen, borderline libidinous directorial choice by Nims.  I felt sorry for the actor and impressed as she gave her lines with aplomb in what looked like humiliating and unnatural stage direction.  It served to remove the audience from the scene-even from the play -and what was being said.  Chick Boyle however never leaves the stage for a second, and any angst is used by Caitlin to her advantage.
Chandler Parrott – Thomas (Meg Magrath) captures the audience attention when she enters the room.  Her playfulness doesn't feel contrived and even when you think you shouldn't root for her, you do.  Babe Botrelle, played by Margaret Grace Lee, is a bit of a conundrum and complex, and Margaret Grace Hee doesn't try to resolve this but put it on display for the audience to figure out.   Margaret doesn't necessarily try to get you to like Babe, which makes the audience think, and the character all the more interesting to watch.   Michel Harris (Doc Porter) does a wonderful job as Doc Porter, a clear compliment to Chandler's energy.  Jeremy Judge (Barnette Lloyd) has a fabulous physical, innocent awkwardness, making for comic relief and male ingenu.
Ross Valley Players Crimes of the Heart will make you glad you went to the theatre.  Overall a thought-provoking, entertaining evening with a friend for a summer night.  Tickets available from July 12 – August 11. Rossvalleyplayers.com, 415-456-9555.